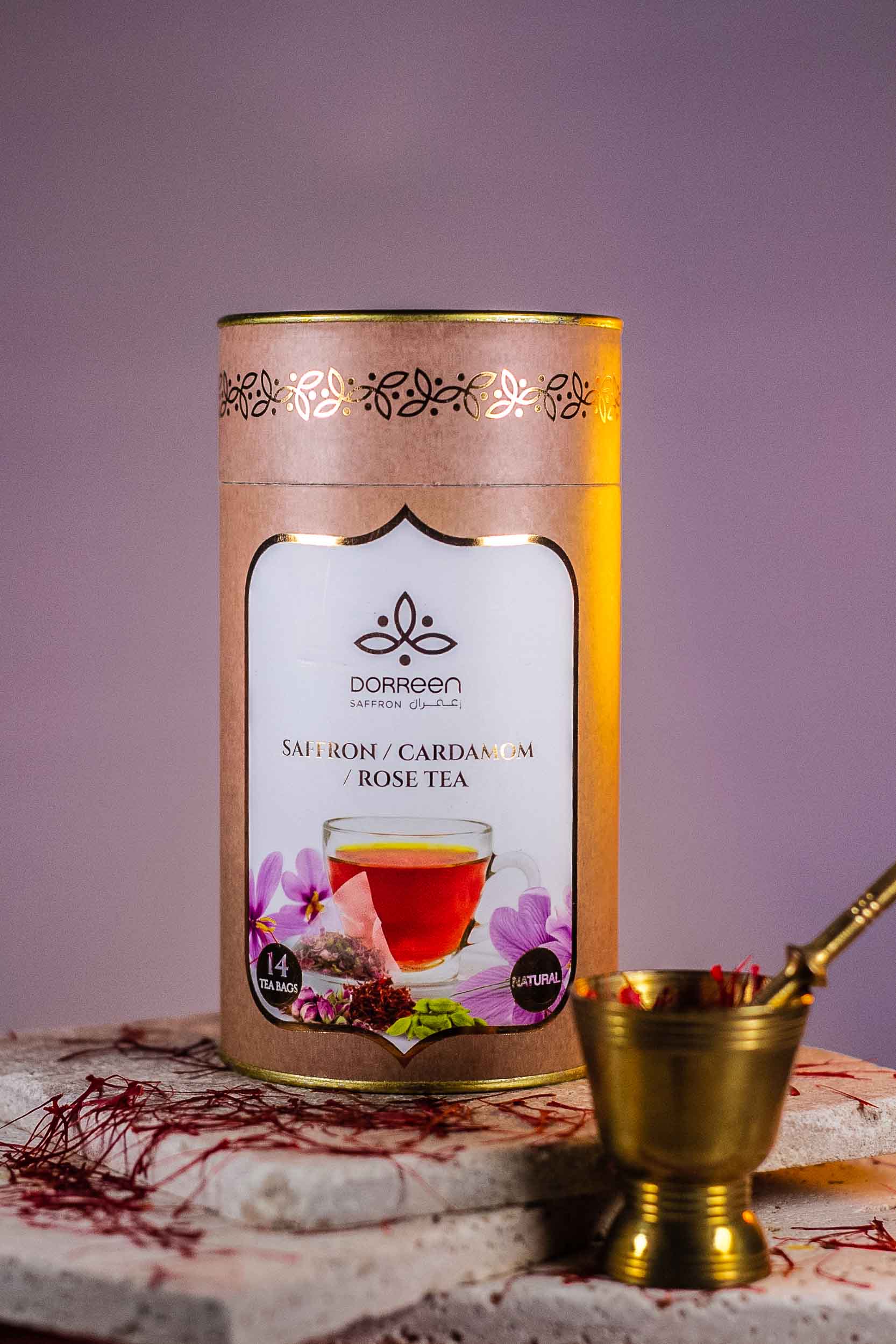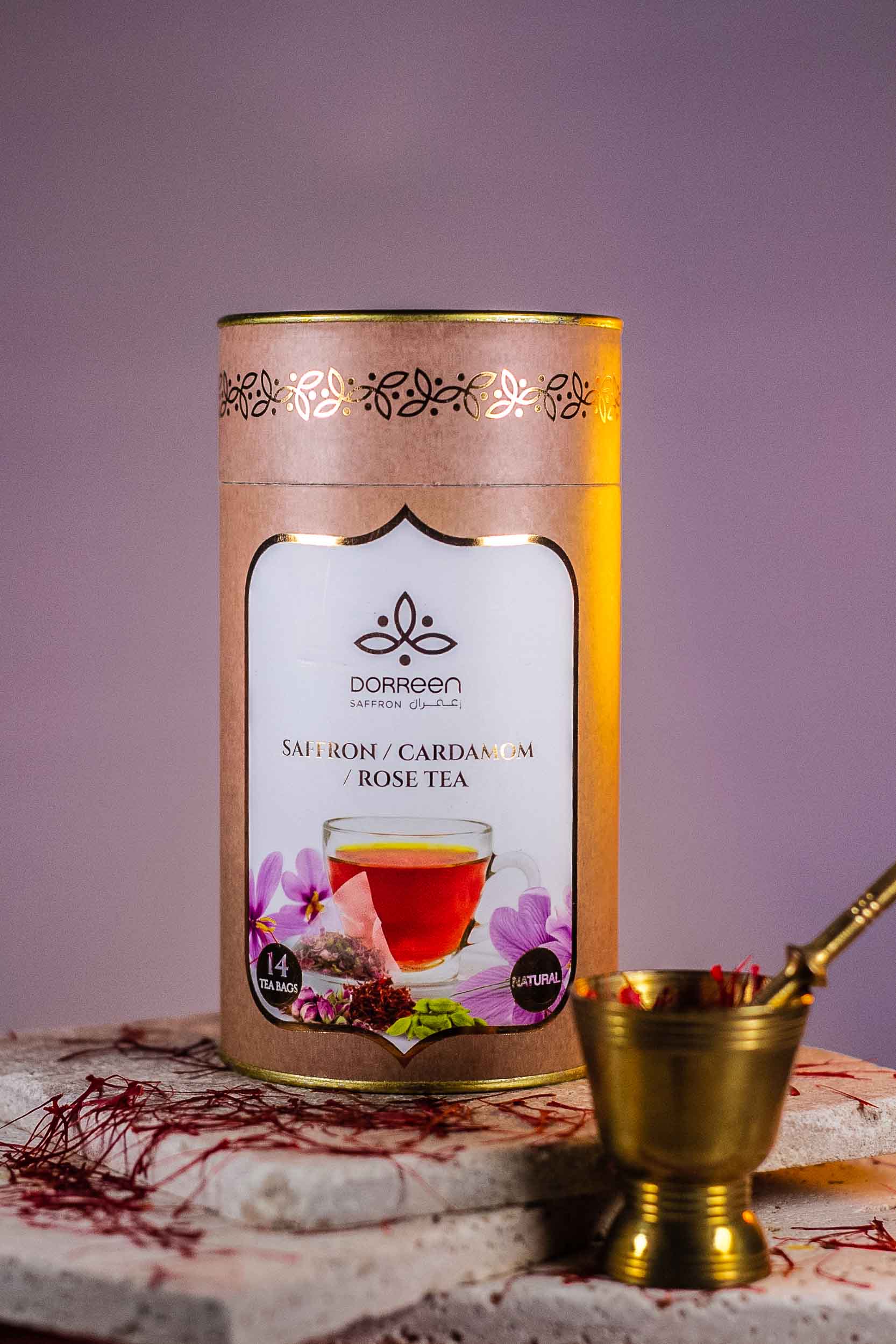 Saffron, Cardamom Rose Tea Box
Rejuvenate yourself with the delicious and refreshing flavor of our Organic Saffron, Cardamom Rose Tea Box. Our tea is made from pure 100% saffron and is enriched with rose and cardamom in silk pyramid tea pouches for a unique and distinctive taste.

This herbal tea contains no caffeine, no artificial color, and no artificial flavors, allowing you to enjoy the health benefits and delicious taste of a healthy tea.

Aromatic and Refreshing

Our Saffron Cardamom Rose Tea Box is sure to please with its fragrant aroma and unique taste. This blend of fresh saffron, rose, and cardamom is sure to impress and delight all tea drinkers. Enjoy the health benefits of a healthy tea while indulging in its delicious taste.

Benefits of Organic Saffron Cardamom Rose Tea
● Rich in Antioxidants: Saffron, cardamom rose tea is rich in antioxidants and is known to help protect your cells from damage.
● Aromatic: The unique combination of saffron, rose and cardamom gives this tea a distinctive and aromatic flavor.
● Low in Caffeine: Our tea is free from caffeine, making it a great choice for those looking for a healthy and caffeine free beverage.
● Natural and Pure: Our tea contains no artificial color nor artificial flavors and is made from pure, 100% saffron, rose and cardamom.
● Refreshing: Enjoy the refreshing taste of this tea that is sure to delight all tea drinkers.

Where to Buy Organic Saffron, Cardamom Rose Tea

Our organic saffron, cardamom rose tea is available across Dubai, UAE, the US and Canada. Find the perfect blend of aromatic flavors and enjoy this delicious and healthy tea

Hand-Picked
Every saffron flower is carefully hand-picked by expert farmers.
Intense & Fresh Aroma
The high compounds levels present in the threads grants an high coloring power, rich taste and intense aroma.
100% Natural
Our products are free from any preservatives, additives, artificial colours or fragrances.
Lab-tested & Certified
Our saffron has been lab-tested and widely respects all the sector's Health & Safety standards.
Saffron Quality & Traceability
To ensure our products keeps the maximum quality standard over time we do chemical and microbiological tests in a certified and specialized laboratory from a sample of the latest crop batch.

On every original Dorreen™ Saffron Almas or Organic Collections, you'll find a batch number on the side of the packaging that permits us to trace back to the original batch.

If you'll ever need to make sure you have a quality product or need to see the specifics parameters of your product send us an email at info@dorreensaffron.com with your batch number and we'll send you the respective lab test sheet.
Security
All our products come out with a branded tamper-proof seal applied at the moment of packing in the production facilities a few minutes away from the saffron farms that will avoid any tentative of counterfeit.
100% Money-Back Guarantee
If you'll ever be not satisfied with the quality of the product provided, send us an email at info@dorreensaffron.com specifying why the product didn't deliver what expected and we'll give you all your money back.