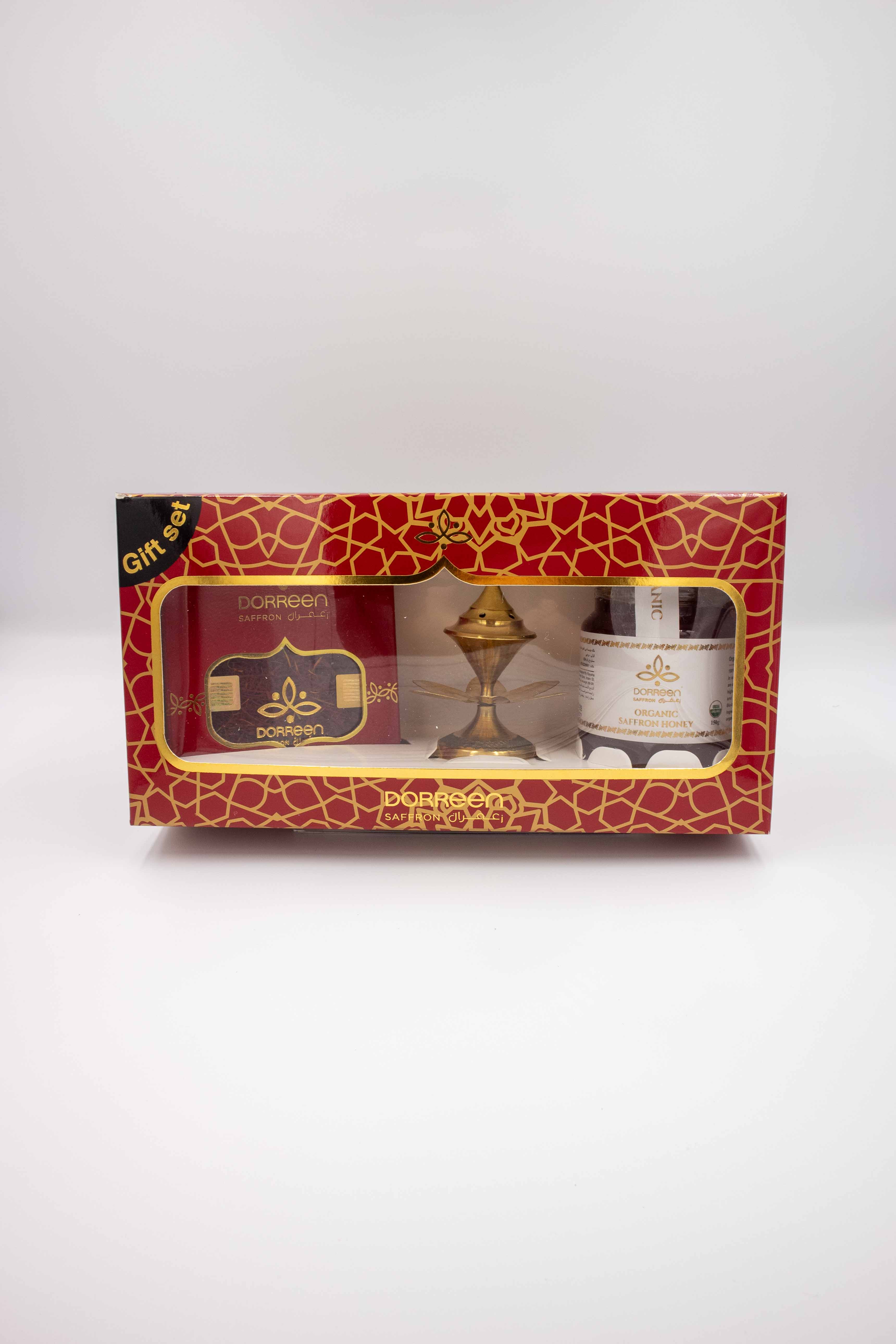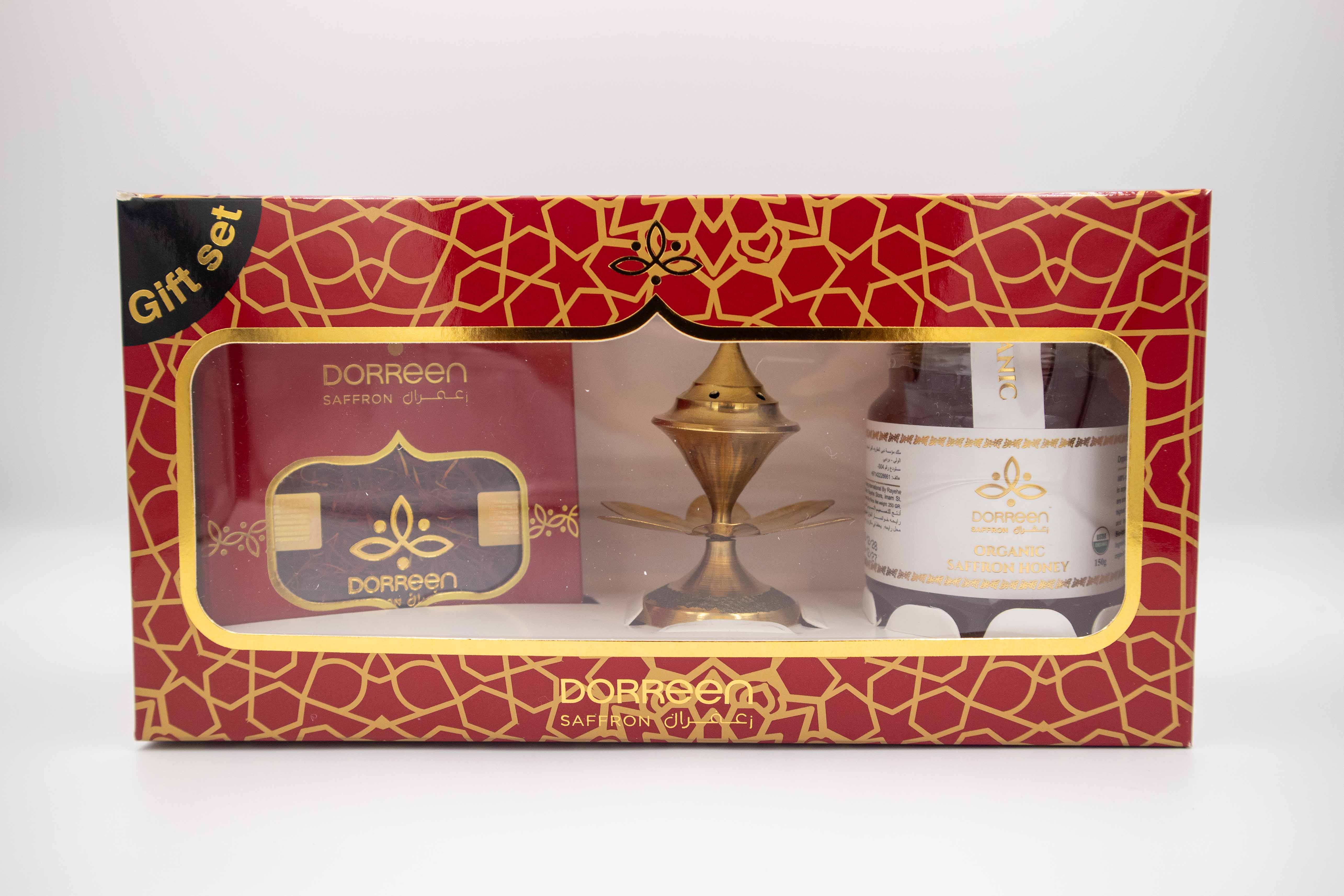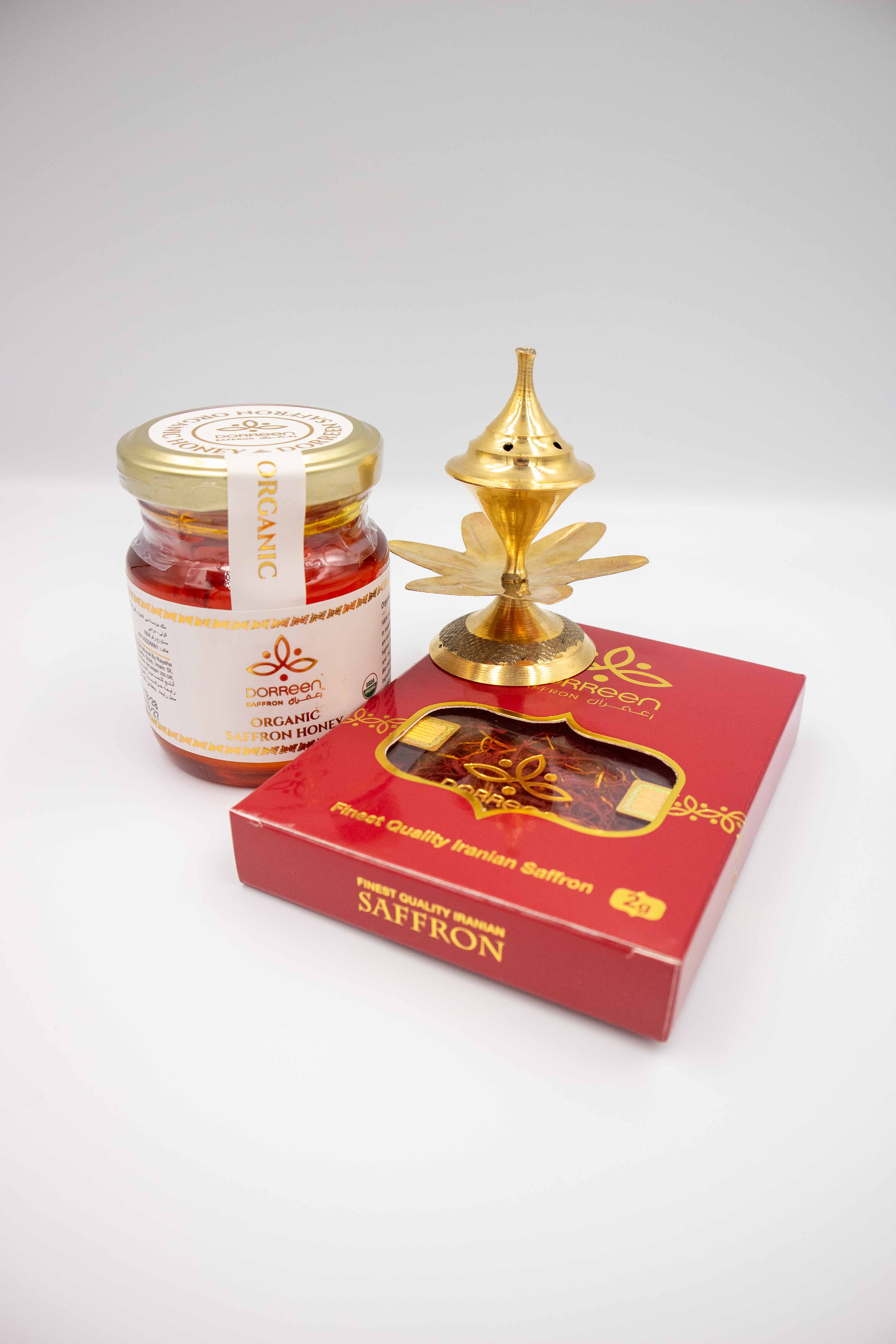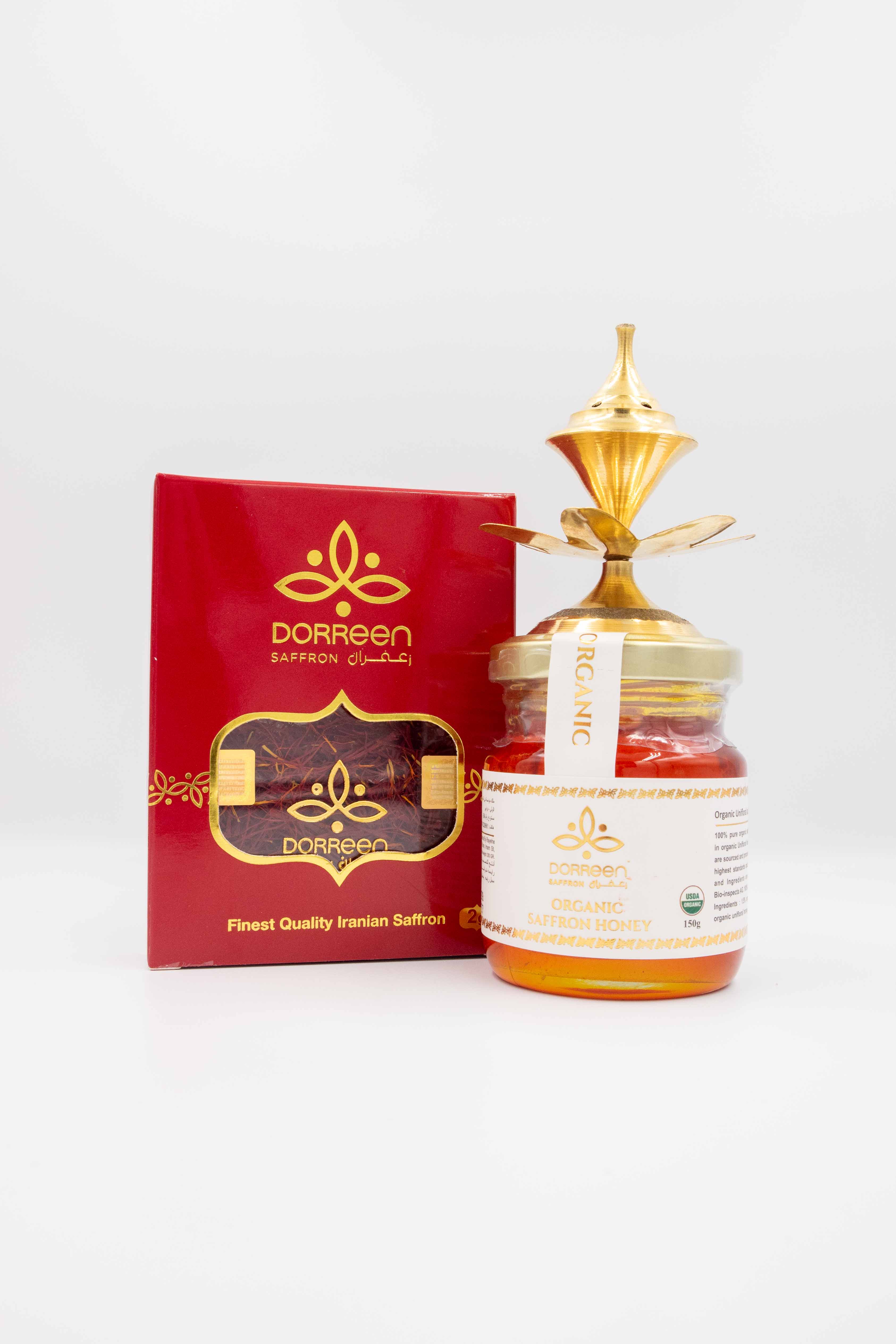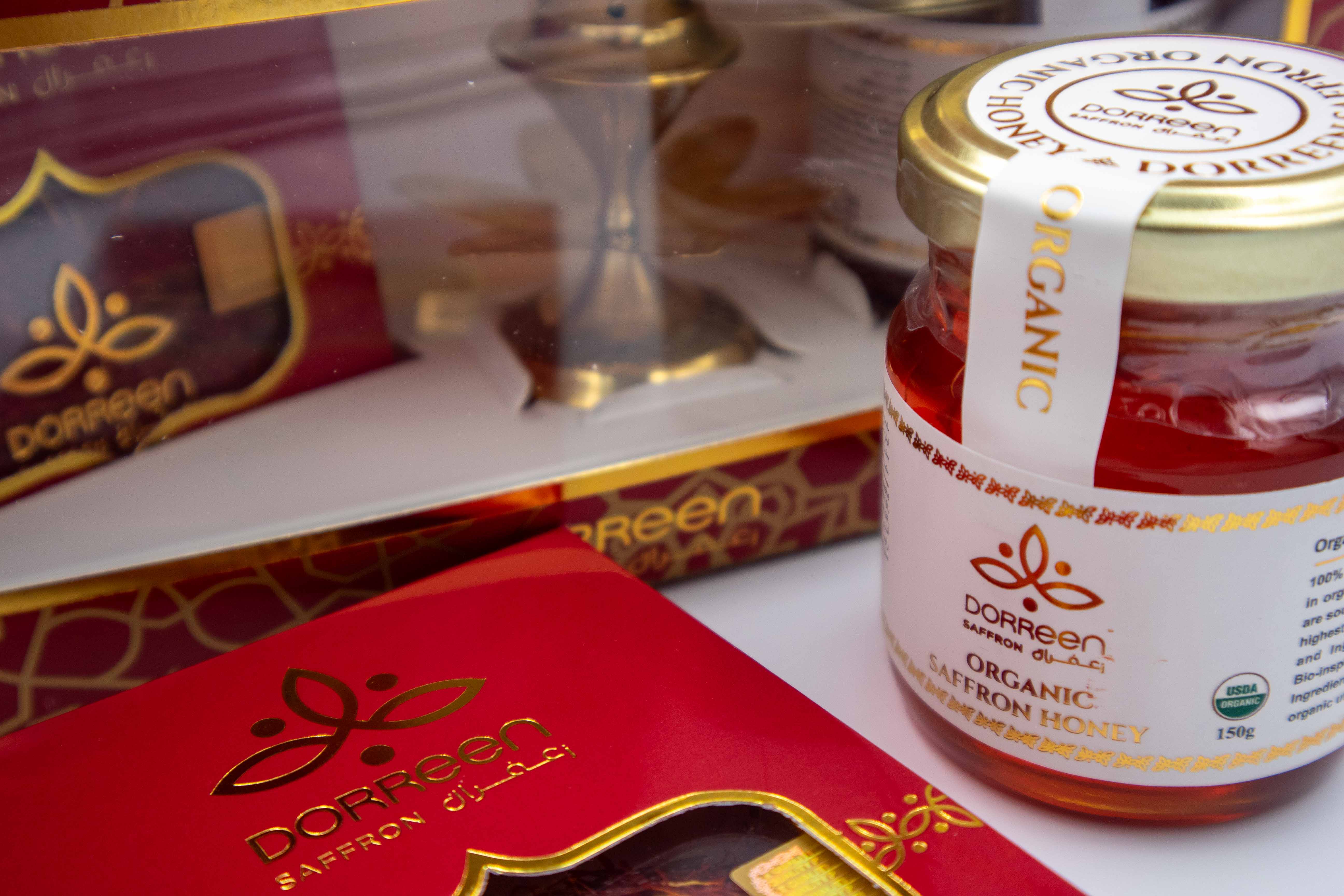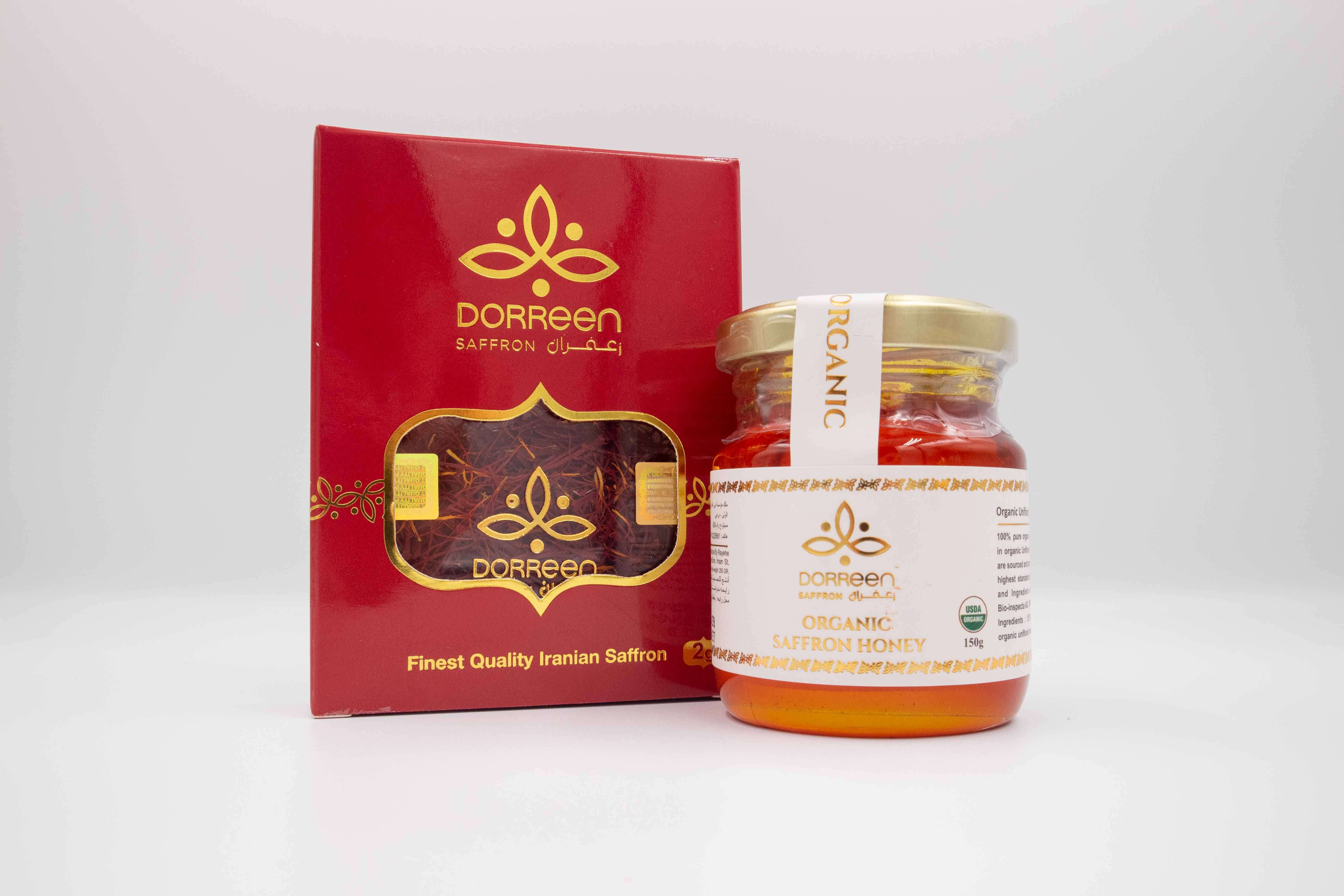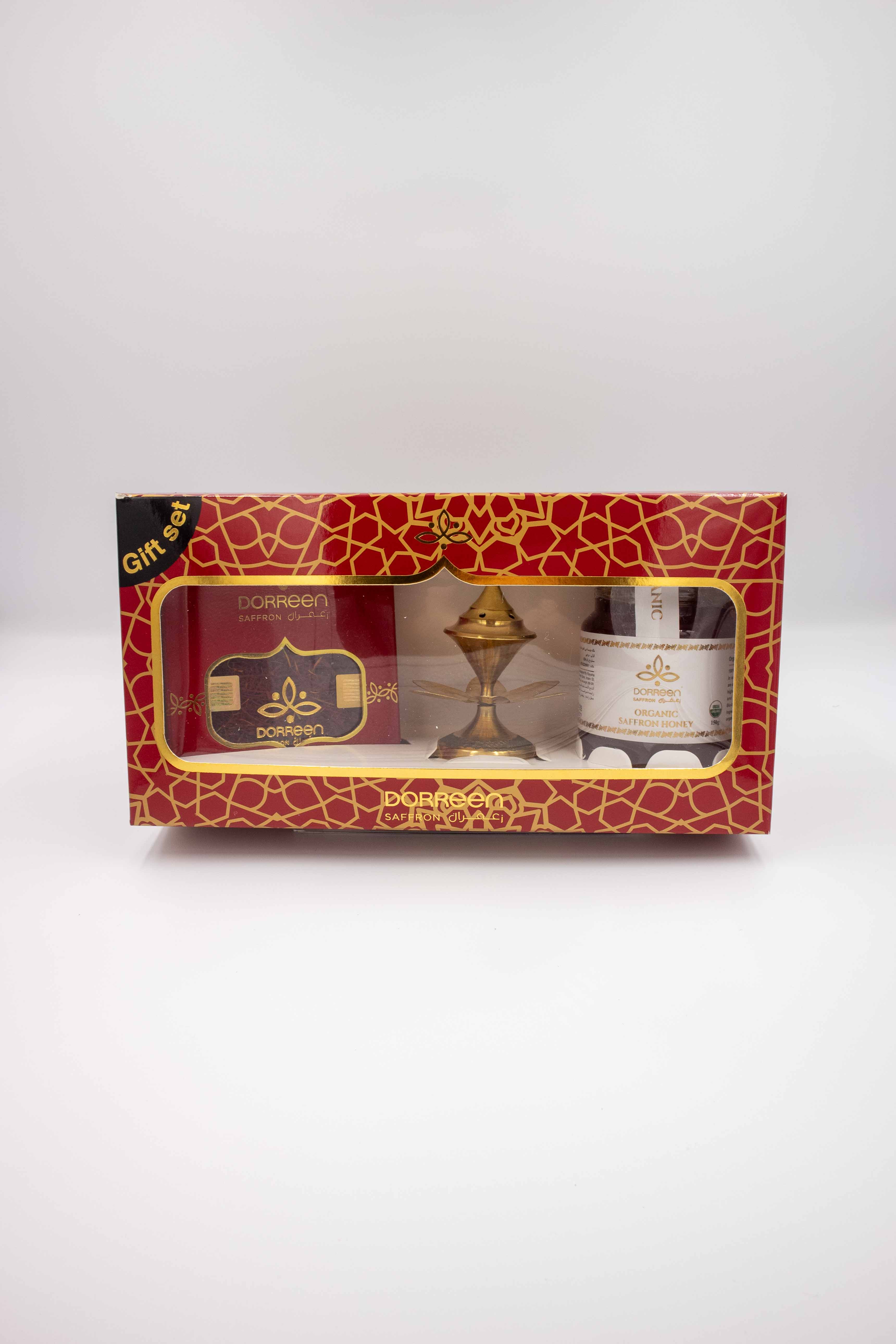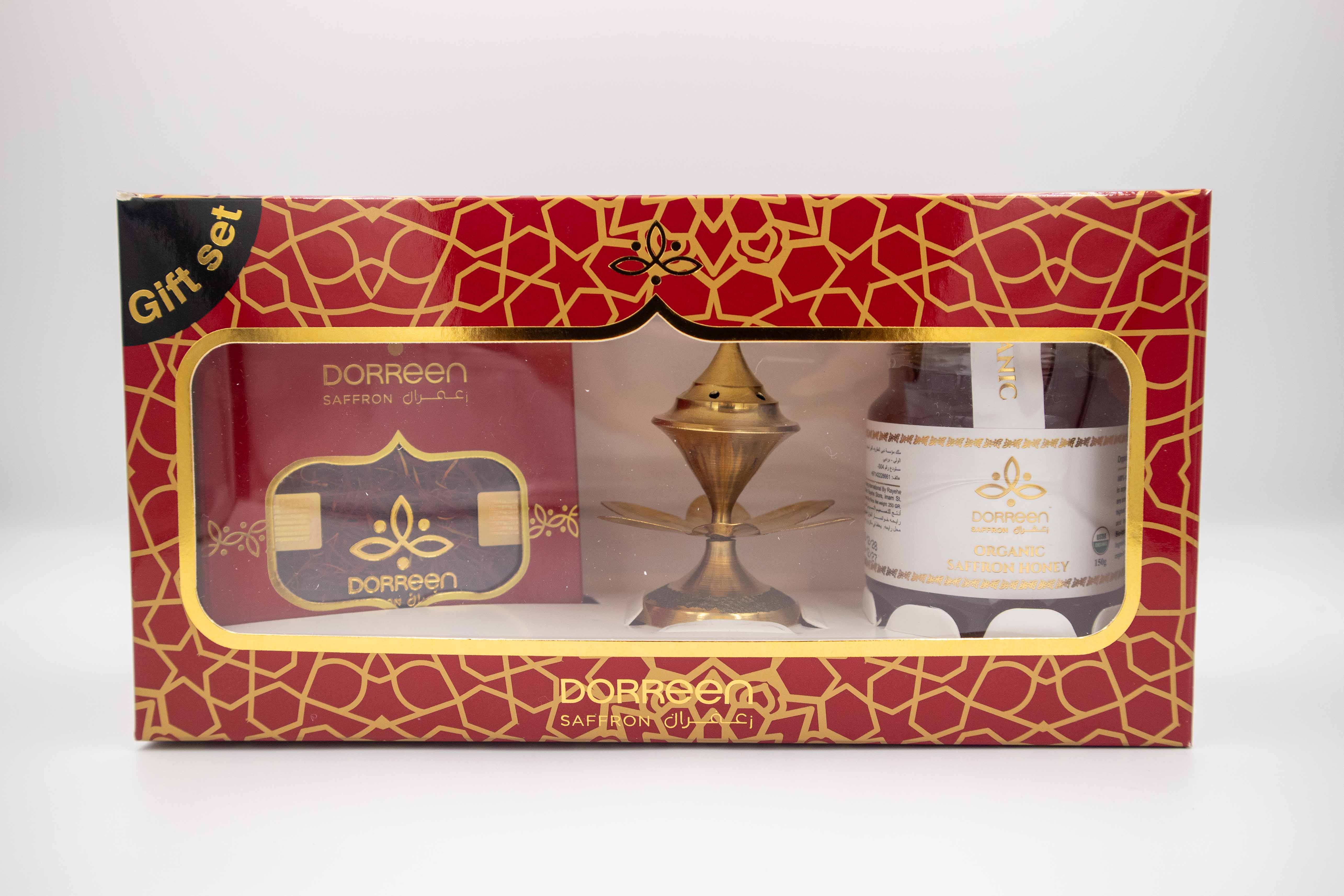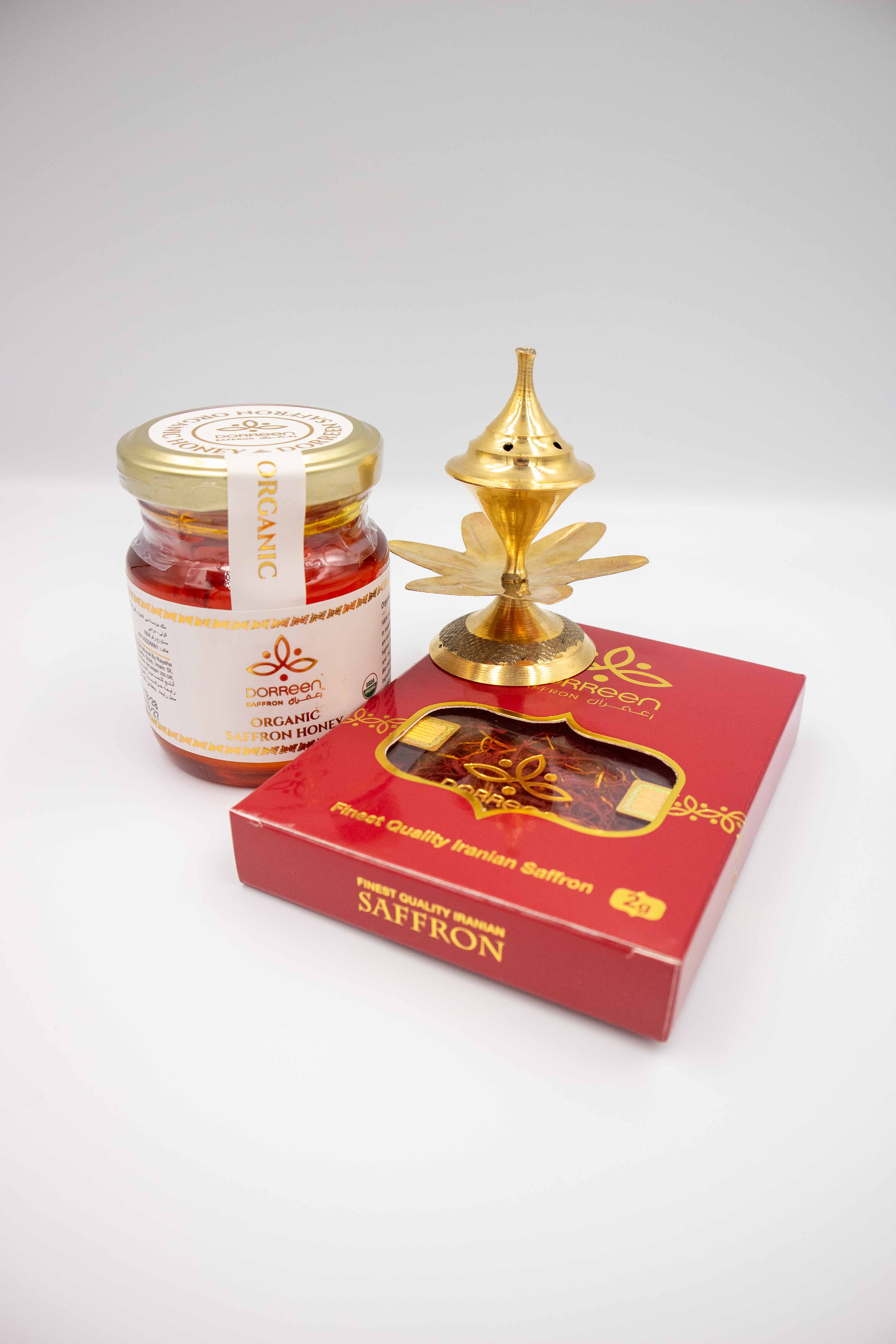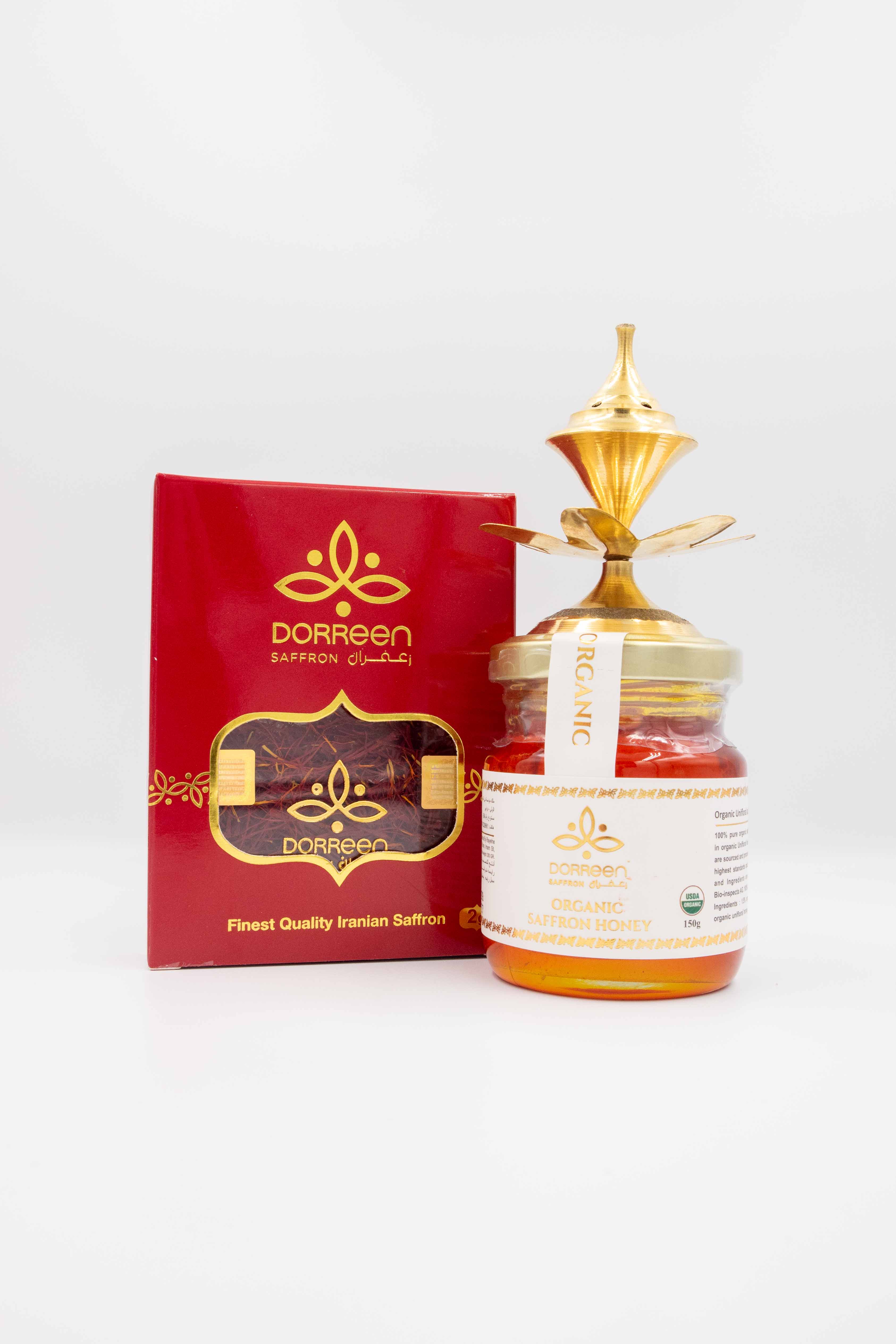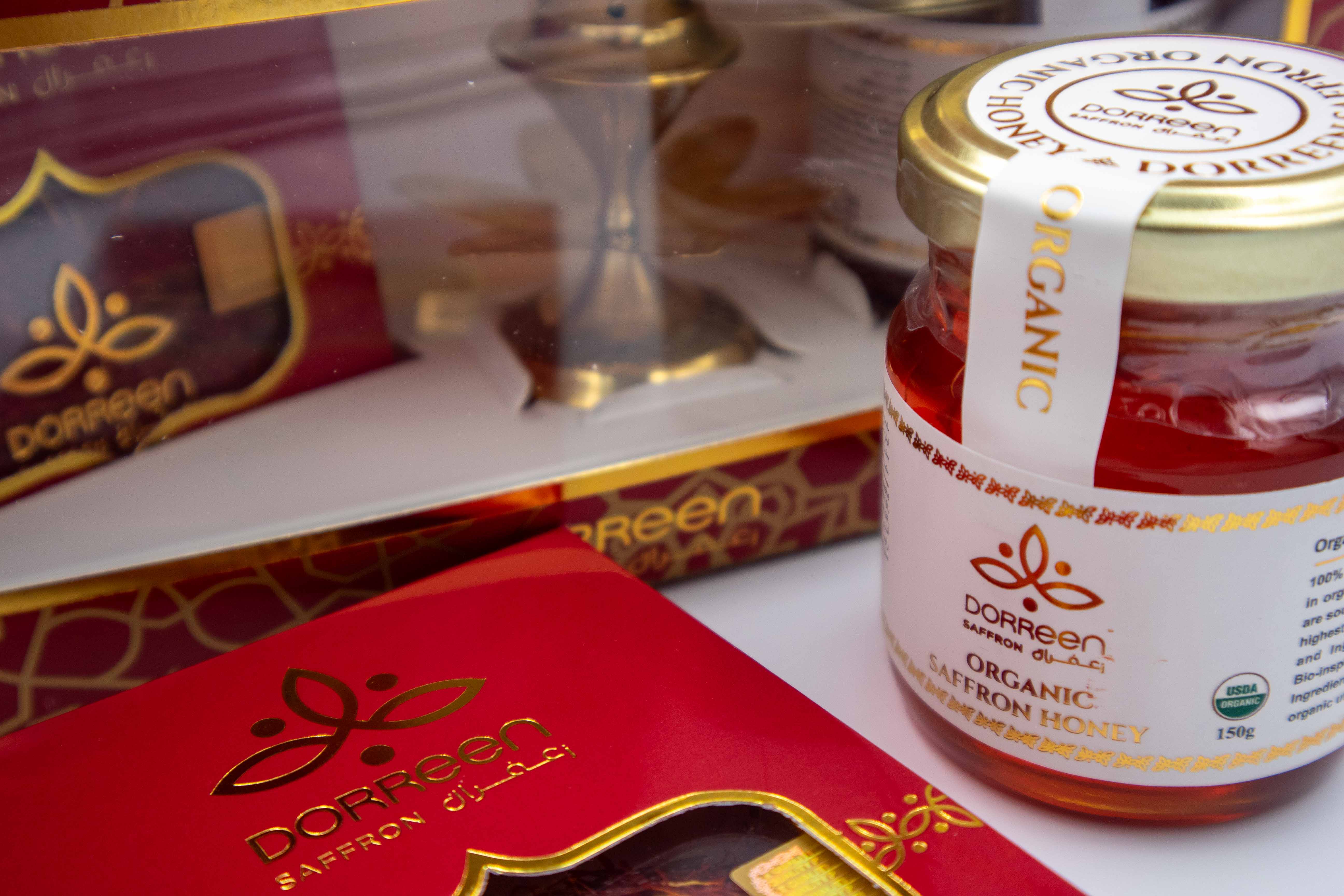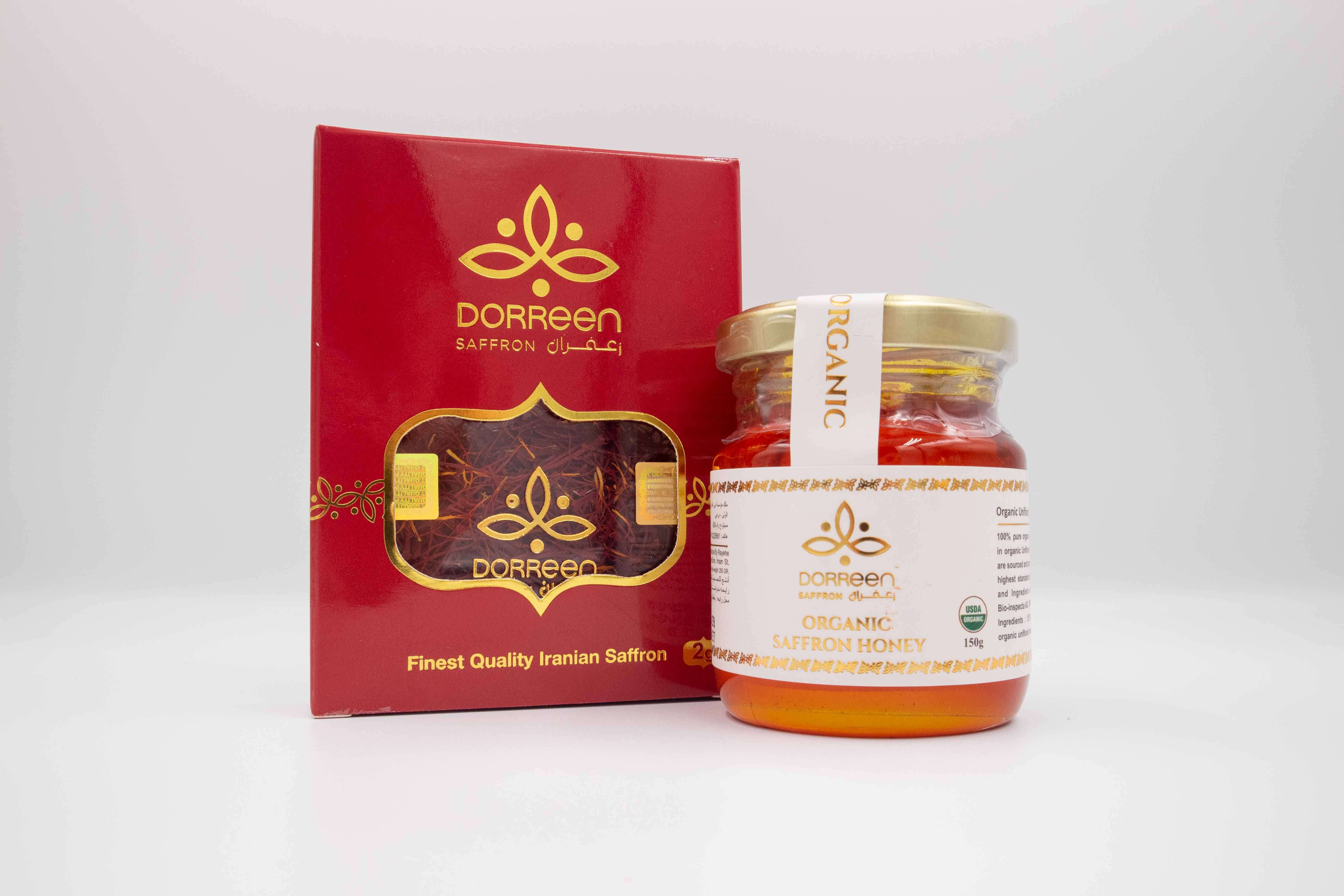 Organic Saffron Honey & Pushal Saffron Diwali Gift Set
Celebrate the Festival of Lights with an exquisite ensemble from the fertile plains of the Khorasan region in Iran. Dorreen's Diwali gift box is a homage to heritage and opulence, designed to delight the senses and elevate the festive spirit.
Inside the Box:
Finest Pushal Saffron (2g): Take delight in the sumptuous aroma and profound flavor of our finest 2 grams of Pushal Saffron, elegantly housed in our Classic Red collection box. Each strand is a rich tapestry of taste, meticulously handpicked to ensure unparalleled quality for your culinary creations.

Organic Saffron Honey (150g): A jar of 150 grams of luxuriant Organic Saffron Honey accompanies our saffron. This delectable spread is a testament to purity and craftsmanship, merging the natural sweetness of organic honey with the exotic essence of saffron for a divine fusion of flavors.

Golden Incense Stick Holder: As a token of gratitude and goodwill, nestled within the box is a golden incense stick holder—a timeless piece of art. This ornate holder is not only functional, keeping your sacred space clean as it catches ash, but also adds a touch of elegance to your Diwali rituals.


Craftsmanship and Quality: Our Pushal Saffron is hand-harvested with the utmost care to bring you the highest standard of this prized spice. Each thread is a narrative of the rich, earthy soil from which it blooms, embodying the essence of Iranian heritage.
The Diwali Gift of Grandeur: Encased in a box that is as regal in appearance as the treasures it holds, the set is adorned with motifs that echo the festive zeal of Diwali. It's not just a present but a rich tapestry of Persian tradition, waiting to unfold in the comfort of your home.
For Diwali, choose Dorreen's Organic Saffron Honey & Pushal Saffron Gift Set with the Golden Incense Holder—a gift that's as memorable and majestic as the festival itself. Offer the gift of flavor, fragrance, and a golden glow to your loved ones, or let it be the centerpiece of your festive celebrations.
Hand-Picked
Every saffron flower is carefully hand-picked by expert farmers.
Intense & Fresh Aroma
The high compounds levels present in the threads grants an high coloring power, rich taste and intense aroma.
100% Natural
Our products are free from any preservatives, additives, artificial colours or fragrances.
Lab-tested & Certified
Our saffron has been lab-tested and widely respects all the sector's Health & Safety standards.
Saffron Quality & Traceability
To ensure our products keeps the maximum quality standard over time we do chemical and microbiological tests in a certified and specialized laboratory from a sample of the latest crop batch.

On every original Dorreen™ Saffron Almas or Organic Collections, you'll find a batch number on the side of the packaging that permits us to trace back to the original batch.

If you'll ever need to make sure you have a quality product or need to see the specifics parameters of your product send us an email at info@dorreensaffron.com with your batch number and we'll send you the respective lab test sheet.
Security
All our products come out with a branded tamper-proof seal applied at the moment of packing in the production facilities a few minutes away from the saffron farms that will avoid any tentative of counterfeit.
100% Money-Back Guarantee
If you'll ever be not satisfied with the quality of the product provided, send us an email at info@dorreensaffron.com specifying why the product didn't deliver what expected and we'll give you all your money back.